Max Allen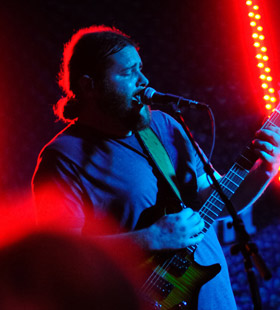 Max Allen is a singer / songwriter / guitarist who has been performing professionally since the age of 16. He has over 1,000 performances to his credit at various venues, colleges, festivals and private events in nealy half the states in the country.
Known for his intricate guitar work, catchy lyrics, contagious melodies and energetic live performances, Allen is in the upper echelon of rising artists on the circuit today. The Max Allen Band has been described as a "stunningly full-sounding trio" whose music is a high energy combination of jazz, blues, funk and rock.
Over the past several years he and his bands have had the privilege of performing on stage with and/or opening for a number of great musicians and bands including The Clarks, Jim Ryser, Larry Crane, Chris Duarte, Dishwalla, Carrie Newcomer, Otiel Burbridge, Dickie Betts, The Spin Doctors, Kenny Wayne Shepherd, Karl Denson's Tiny Universe, Ekoostik Hookah, Dark Star Orchestra, Umphrey's McGee and The Marshall Tucker Band.
With six CDs, (the latest "Ending Sun" released 2009) MAB is nearly ready to return to the studio for yet another CD . MAB is under the Big Walnut Records label.
Shaan France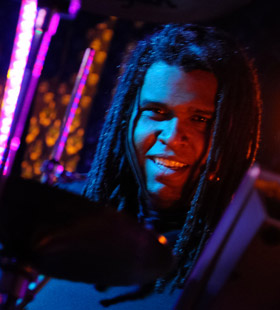 Shaan France was born in Columbus, OH and moved to Ashland, KY at the age of three. He started playing drums at the age of 10 in his middle school band. After he graduated from high school, he went to Morehead State University (KY) to become a Music Education Major with a Percussion emphasis.
Shaan learned all aspects of percussion from symphonic, marching, funk, jazz, world and contemporary. In college, he marched and taught in the Bluecoats Drum and Bugle Corps. Shaan was also part of a two time winning international marching percussion drum line.
After college, Shaan moved to Indiana where he teaches private lessons and does fill in work for other bands. His biggest influences are Stewart Copeland, Miles Davis, Frank Zappa, Vinnie Colatiuta, John Fishman and Billy Martin.
Dace Robie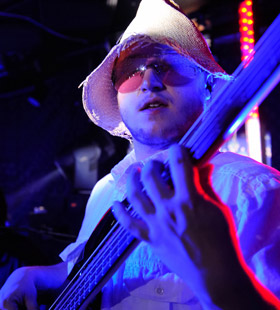 Davison "Dace" Robie was born on 30 November 1986 in Jamestown, New York. As a boy he moved to Indianapolis, Indiana with his family. At 12 he sang in his elementary school choir, and later began to play baritone and alto saxophones and bass clarinet. By 15 he had begun to play double bass and bass guitar, which remain his two great loves to this day. In 2010, Dace graduated from Butler University, where he studied composition, double bass, and jazz improvisation.
Dace joined the Max Allen Band full time in the summer of 2009. When not busy with MAB, Dace is a founding member of the fusion group Melancholy Elephants (Indianapolis) and a member of Everywhere Theatre Group (NYC).
State of Terror: Directed, Recorded, Edited and Scored by Davison Robie and Nick Hartgrove:
http://www.youtube.com/watch?v=4ek9pG3OE8I
Everywhere Theatre Group: http://everywheretheatre.org